Non-surgical treatment for feline resorptive lesions and chronic periodontal disease in a cat with chronic kidney disease
I am so pleased to be published in the Innovative Veterinary Care Journal. Yochabel, who transitioned over the Rainbow Bridge at age 20, was the best cat and patient. She had many health issues that responded well to integrative care and application of the healing wheel. We avoided surgery on her otherwise infected and painful mouth by using a periodontal ointment, DentaPet by Hope Science.
Written by Casey Hersch, MSW, LCSW
Innovative Veterinary Care Journal
August 7, 2019
This layperson's case study demonstrates how a patented blend of natural oils helped a high-risk feline overcome chronic periodontal disease.

Synopsis
Patient: Yochabel (feline)
Weight: 11.0 pounds
Age: 18 years old
Diet: Not kibble. Homemade species specific diet and wet food.
Diagnosis:
Periodontal disease: Dental calculus and gingivitis. COHAT and frm to stage and treat. Possible underlying TR
Tooth resorption: COHAT and frm, probing to rule out TR. 409 has retained root(s), rule out other lesions. Extraction is indicated
Renal insufficiency-elevated BUN, Creatinine.
Periodontal disease stage 2
Retained root fragment
Ramifications of Diagnosis: Inability to eat food
Other Medical Issues: Chronic kidney disease
Treatment: 1/4 of a capsule of DentaPet rubbed on Yochabel's gums/ twice daily
Outcome: Improved gum health and return to regular diet
____________________________________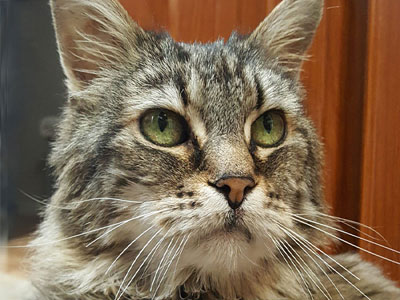 My 18 year old cat, Yochabel, was a "foodie", her passion in life was eating. When the day came that she didn't knock over her food bowl trying to devour the last morsel, I knew something was wrong. After a consultation with her veterinarian followed by a referral to a veterinarian dental specialist, Yochabel was diagnosed with chronic periodontal disease and feline resorptive lesions. During her oral exam, it was found that Yochabel had several broken teeth and exposed nerve roots, making eating painful. After Yochabel was diagnosed with resorptive lesions, I pureed and warmed all of her food to make eating more comfortable. The specialist stated that the solution was surgical teeth extractions, which required anesthesia. However, we were faced with a dilemma: Yochabel had chronic kidney disease, which, combined with her age, made surgery high risk.
I was reluctant to proceed with surgery, and set upon researching more innovative, non-surgical treatment options. This is when I discovered Hope Science Vet DentaPet: a patented blend of natural food oils targeting periodontal disease and gum inflammation, created to naturally support oral health. The directions recommended rubbing Yochabel's gums with the ointment and/or placing it on her paws so she would lick the ointment onto her own gums. As I slowly introduced her to the ointment, first through smell, then taste, she seemed receptive. Gradually I approached her from behind her head and stroked her as I gently introduced the ointment into her mouth. In no time at all, she let me rub her gums. This became part of our daily routine and the results were astonishing. After three months of consistent Dentapet application twice daily, Yochabel's gum health markedly improved. Within four months she no longer required pureed food and was able to resume her regular diet with ease. Her normal diet wasn't kibble because I know that she would not have been able to crunch down on hard food. She could however chew chicken and turkey breast, ground beef, etc. comfortably after healing took place. I continued to apply Dentalpet once per day for maintenance.
This non-surgical, alternative treatment improved Yochabel's quality of life, a decision that was in the best interest of her care. After her diagnosis, Yochabel continued to have a great life until she passed away at the age of 20.