Natural Practitioner Magazine: Diagnostics and prevention during a pandemic
Written by Casey Hersch, MSW, LCSW
November 17, 2020
I am so excited to be quoted in Natural Practitioner Magazine along with some of my colleagues, mentors, and icons. In the November 2020 issue of Natural Practitioner Magazine, editor Lisa Schofield, in an article titled Testing Methods, interviews clinicians, researchers, and physicians on trending diagnostics and screening tools. The article sheds light on the importance of diagnostics and preventive services amid the pandemic, and the new terrain of healthcare as we move forward.
Dr. Dan Beilin, founder of Alfa Thermodiagnostics, is featured in the article. The AlfaSight 9000 is a noninvasive, FDA approved, and affordable method of screening for weaknesses in body systems, the immune system, and whole body health. I have personally used the AlfaSight and am grateful for a way to "look inside" my body as an alternative to routine colonoscopies, mammograms, and other invasive procedures. In less than 30 minutes I have information about my whole body, which can then be used to determine if other conventional diagnostics are necessary.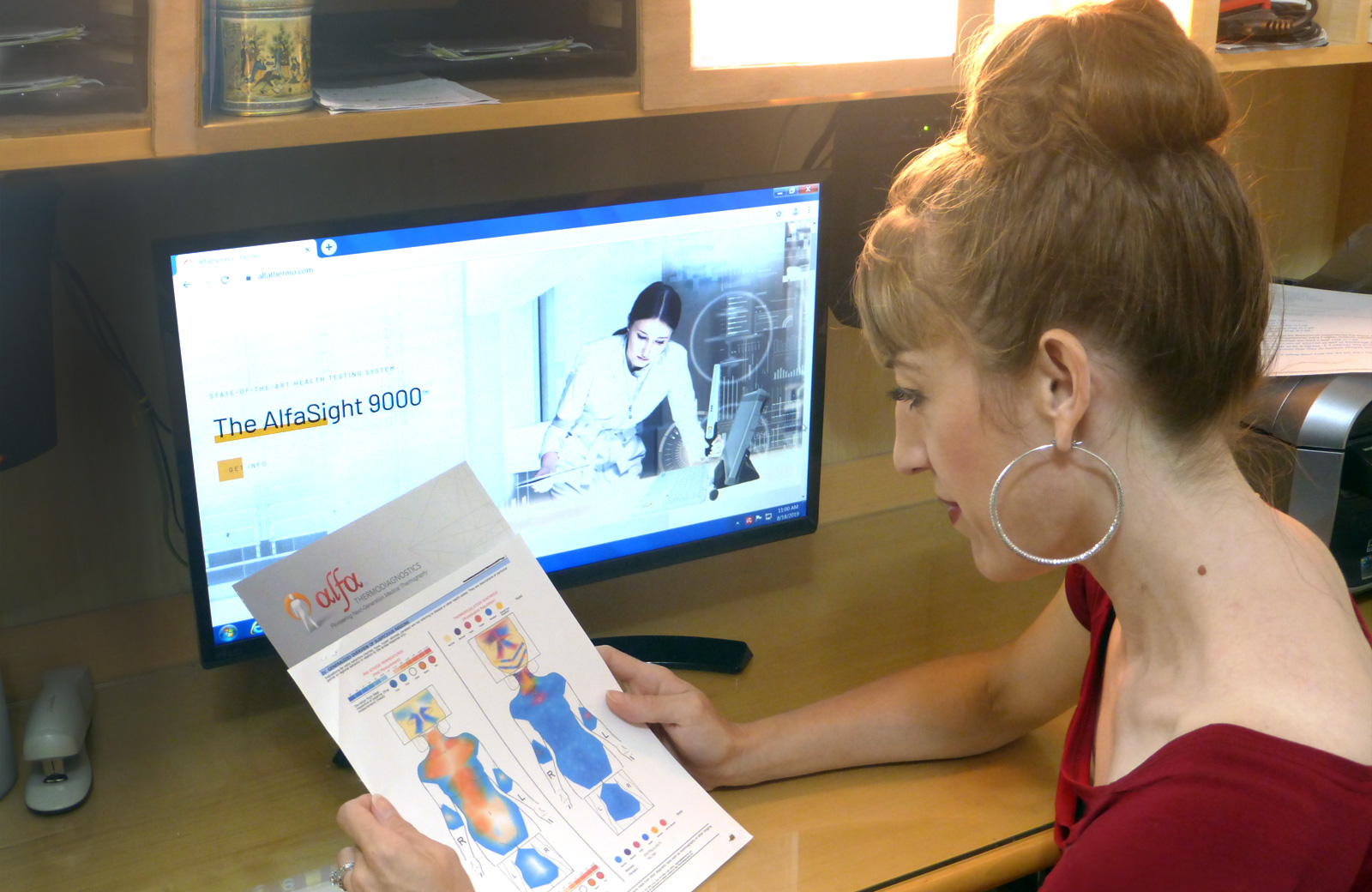 In my quote in Natural Practitioner Magazine, I comment on my observations of the AlfaSight:
"Casey Hersch, clinical social worker and founder of LightYourSparkle.life added, "Alfa Thermometry gives patients a MAP of their own bodies. It serves as an adjunct to other treatments. By providing immediate feedback on the interconnectedness of every organ and body system, it is easy to track and respond to changes. This empowers patients by allowing them to consider treatment options that were otherwise unexplored and are now brought into awareness."
Excerpts from Natural Practitioner Magazine:
"Daniel Beilin, OMD, LAc, founder of Alfa Thermodiagnostics (Santa Cruz, CA), stressed, "Now more than ever, practitioners and patients need systemic whole-body views to guide them in developing preventive treatment plans and to address chronic and acute illnesses."
"Alfa Thermodiagnostics offers the AlfaSight, which Dr. Beilin described as an extremely sensitive and systemic analysis of weakened organ functions, physiological dynamics, and stress-responses which correlate with vulnerability to disease including viral onslaughts such as COVID. "Our patients are better prepared for the risks of the pandemic because the AlfaSight gives us the tools to address individual vulnerabilities to COVID attacks. Since its clearance by FDA (U.S. Food and Drug Adminsitration) radiology, we have been using this non-invasive technology to respond to a myriad of problems that increase risk to other disorders and diseases," he explained."
"Alfa Thermodiagnostics' AlfaSight, described Dr. Beilin, incorporates algorithms that help define and adjunctly diagnose, allowing practitioners to respond to root problems affecting the whole body and help their patients heal from the inside out. The AlfaSight consists of a hand-held sensor that records skin temperature as affected by neural networks traversing the spinal cord. These neurologically based projection zones include information from the organs and tissues in their segmental region. "This is a known thermoregulation physiological effect documented in most neurology texts," he said."
"He explained how it works: taking two measurements separated by 10 minutes of stress from exposure to cool-room-air, a dynamic before-and-after temperature monitor provides enough data to "recognize" specific patterns, which he said are known and proven by collaborative tests (blood tests, culture, X-Ray, CT, MRI, PET). These tell the practitioner where deviations from known healthy stress-responses are developing."
"Similar to a treadmill test done by a cardiologist, described Dr. Beilin, the AlfaSight analyzes the dynamic changes between pre- and post-stress states and concludes with adjunct diagnostic information portrayed in a six-page report. "Recommendations regarding further tests or supplements to consider are provided; this information is not tied to any particular company endorsement and leaves choices up to the treating physician and the individual patient case," he assured."
Read the full article to learn more about Spectracell Laboratories Micronutrient test and to hear what Dr Jacob Teitelbaum, author of From Fatigued to Fantastic, has to say about screening and testing methods for whole body health and disease prevention.
Additional resources: Alfa Thermometry: Bridging the Gap in Women's Healthcare